One of the distinguishing features of William Felkin's life was that he was born in Ilkeston — on April 24th 1795. Shortly after his birth, the Felkin family went to live in a cottage at the top of Bath Street, nearly opposite the end of East Street. The property was purchased from Benjamin Goddard, a knitter, in January 1796 (writes Waterhouse) … Benjamin may have been the brother of John Waters Goddard.
—————————————————————————————————————————————–
Notes from Knitting Together; the heritage of the East Midlands knitting industry https://www.knittingtogether.org.uk/
Author of the 'History of the Machine-Wrought Hosiery and Lace Manufactures'.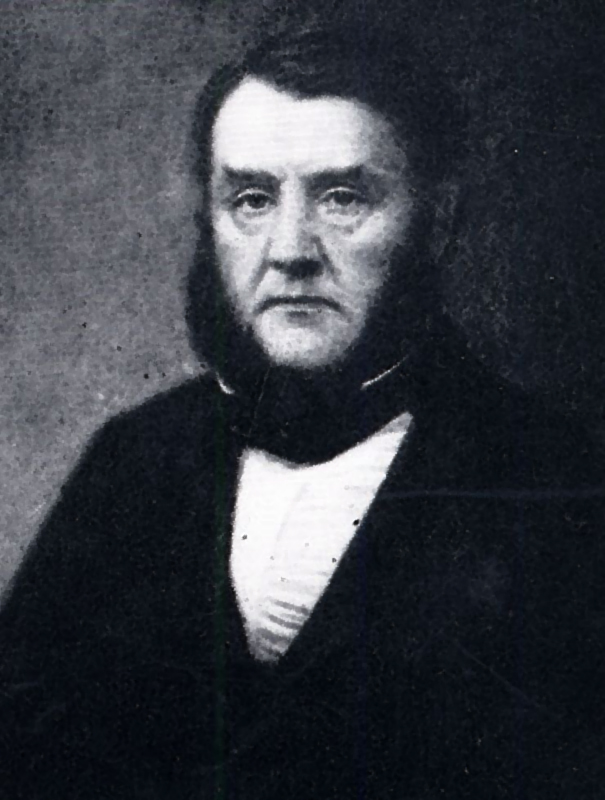 Felkin was educated at a school opened in 1805 by his father.  At the age of twelve he left the school and became an apprentice to a Castle Donnington baker.  Felkin's father terminated the apprenticeship a year later after a disagreement with the baker and sent Felkin to work with his grandfather in Bramcote, Nottinghamshire, as an apprentice framework knitter.  His grandfather was a successful framework knitter who gained work from Heard and Hurst, suppliers of hosiery to the Prince Regent.  In 1809 Felkin's grandfather secured him an apprenticeship to Heard and Hurst.
Heard and Hurst respected the young Felkin and during the Luddite rebellion he was entrusted to guard the firm's frames against framebreakers.  In recognition of the successful start to his apprenticeship Felkin was sent in 1812 to work in the firm's London warehouse.  He completed his apprenticeship with Heard and Hurst in 1816.
Around 1822 Felkin took up employment with John Heathcoat, the Nottingham framesmith who had invented the bobbin net lace machine.  After working in Heathcoat's London warehouse and at his factory in Tiverton, Devon, Felkin was sent to France and Germany for two years to research silk reeling technology.  In 1826 Felkin returned to Nottingham and acted as an agent for Heathcoat and other lace manufacturers.
While working for Heathcoat, Felkin chaired a committee of Nottingham lace industry machine owners.  The committee met in 1828 to respond to a sudden downturn in the industry.  Felkin and other members of the committee attempted to regulate the number of hours machines were worked, but their actions failed.  Later Felkin chaired a committee that fought unsuccessfully against the export of lace machinery to France.
Felkin established a partnership with William Vickers in 1832 to provide a middleman service and sell net lace on behalf of framework knitters.  The partnership also began to manufacture lace.  When the partnership was dissolved in 1848 Felkin continued to manufacture lace in Kayes Walk, located in the Lace Market area of Nottingham.  In the 1850s Felkin experimented with the production of stockings on powered machines.  By 1861 he had 53 powered machines operating in Beeston and his son had a further 39.
During his time as a manufacturer Felkin lobbied for the establishment of a school of design.  His campaign began in 1836 and finally resulted in the opening of 'The Government School of Design' in Nottingham in 1843.  In 1851 Felkin was appointed mayor of Nottingham and he exhibited the products of the lace industry at the Great Exhibition.
In 1864 Felkin's firm collapsed, although it is unclear as to what the cause was, and Felkin narrowly escaped being declared bankrupt.  With his firm ruined Felkin turned to writing his 'History of the Machine-Wrought Hosiery and Lace Manufactures'.  The book today remains a valuable source of information relating to the development of two key industries.
——————————————————————————————————————-
From The Nottinghamshire Baptists and Social Conditions (https://biblicalstudies.org.uk/pdf/bq/27-5_212.pdf)
About 1848 Felkin became a lace manufacturer on his own
account and in 1861 was operating fifty-three power-driven machines
at Beeston while his eldest son had thirty-nine machines in a nearby
factory. In 1856 they were manufacturing hosiery as well. When
Felkin was seventy the credit of his firm collapsed, mainly, it is
thought, because of the actions of his son, who emigrated to New
Zealand shortly after. Felkin was saved from bankruptcy by friends
who bought him an annuity which enabled him to spend the next few
years writing his History of the Machine-Wrought Hosiery and Lace
Manufacture, a classic of industrial history. Throughout his life Felkin
displayed a genuine concern for the working classes, following the
enlightened principles of Heathcote, and, indeed, carrying them
further. In the year his firm collapsed his Beeston wo~kmen presented
him with "a beautiful timepiece worth eight guineas" as an expression
of "our sincere and heartfelt thanks for the sympathy you have ever
manifested toward us in consulting our welfare as a body". 8
Felkin, though he sponsored several movements for fost
In 1835 he was elected a fellow of the Statistical Society of London, and in 1840 a fellow of the Linaean Society. His profound acquaintance with the general parliamentary committees, and he gave evidence on the Children's Employment Commission, the Ten Hours Bill, Export of Machinery, Silk Manufacture's Inquiry, Hand-loom Weaver's Commission, Health of Town's Bill, Educational Inquiries, Penny Postage, Midland Railways, Nottingham Inclosures, Repeal of the Corn Laws, and several other matters of great public interest. In the midst of his accumulating private and public duties, he found time to furnish almost weekly contributions to the local press, chiefly upon the trade and business of the town. In 1850, when he had sat in the town council for eight years, he was elected mayor, an honour which was again conferred upon him in 1851. In 1851 he officiated as chairman of Jury No.20 in the Industrial Exposition, having previously written, and dedicated by permission to Prince Albert, a lucid and meritorious essay on 'The Commercial Aspect of the Great Exhibition
From PictureNottingham (https://picturenottingham.co.uk/image-library/image-details/poster/ntgm007341/posterid/ntgm007341.html